Satco's BLINK flush mount LED fixtures – newly designed for easy installation!
At 2700K color temperature, this state-of-the-art LED flush mount will match the warm ambiance of an incandescent while saving plenty on electric bills. Satco's BLINK Flush Mount has a 108 degree beam spread which make it perfect for kitchens, bathrooms, hallways, family rooms, offices. The IC (Integrated Circuit) Driver on Board technology eliminates the driver housing on the back of the fixture, resulting in a 1" deep fixture that can be used on any 3", 4" or pancake junction box.
This low profile fixture is dimmable and comes with a 5 Year limited warranty.
Satco's Blink flush mount LED fixtures are easy to install. The fixture mounts to both 3″ and 4″ junction boxes with the provided hardware in just 3 easy steps.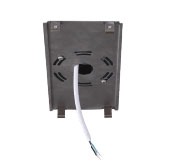 Step 1: Simply screw the Blink universal mounting plate to the junction box.
Step 2: Make your connections using Blinks included quick connects and lift into place.
Step 3: Snap Blink onto the mounting plate and your done.
Sizes include 5.5-inch, 7-inch and 9-inch round or square models at 10.5W, 13.5W and 18.5W, respectively. Finishes include White, Brushed Nickel or Bronze. They are damp-location listed and Energy Star®-certified. Wet location flush mounts will be available in 7" and 9" white fixtures. Emergency battery back-up is available in the 7" round or square design.